For the last two weeks, I've been leaving work from Soso each evening to lurk around the overgrown grounds of an abandoned house. If people lived in this abandoned house, they would be my neighbors. Half of the windows in my house face the abandoned house and I've gazed out onto it for many hours since I moved into my place three years ago. In the spring and summer months, it becomes a lush sanctuary for colorful birds and pooping dogs. So when the time came to find a set on which to shoot a dance film, the abandoned house came quickly to mind.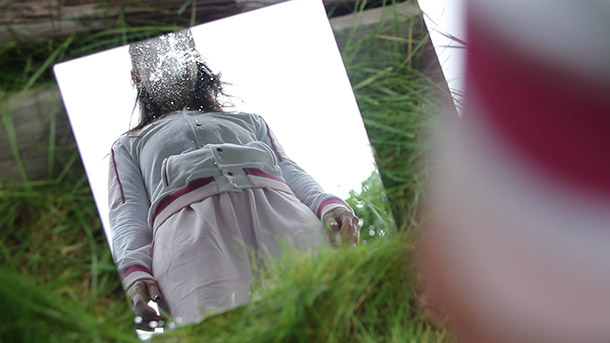 The film is called Nothing in Here But Noise. It was written, choreographed, filmed, and edited in two weeks as part of the Dances Made to Order online film festival. The festival was started by Kingsley Irons and Bryan Koch, based out of LA, and commissions three artists each month in a different city to create dance films around a set of topics voted on by audience members. You can buy a ticket to watch the movies and 65% of the tickets sales goes to the artists. The Boston edition was curated by Alissa Cardone and the other films were created by Sara June & James Ellis Coleman, and Jimena Bermejo Black, Alli Ross, & Mariela Cerda.
My collaborator on the film was Liz Roncka, a badass Cambridge-based movement artist. The story and movements for the film came about fluidly through conversations and experiments. We had two weeks to create the thing from start to finish and we had to address the following three topics: suspended animation, water/skin, and silence/noise. Out of all this, Darci was born. Darci is a local girl who awakes from a cryogenic state at an unknown place and time. She is possessed by unsettling but familiar movements as she confronts a mysterious old house.
Big thanks to Soso and Jeff Lieberman. The movie was filmed with Soso's camera and Jeff's lens.