I just returned from Raleigh last week. The Ribbon is hung and looking brilliant. The real-life manifestation of most architectural elements falls short of the initial renderings, but I have to say, in this case it surpasses them. None of us had any idea what a stunning object this would be. It actually looks likes it's floating. And the atrium itself is a gorgeous space, full of light and reflections. Bill and Jeff—along with Greg, Jeremy, and Curtis, their rigging team—did an amazing job installing the piece.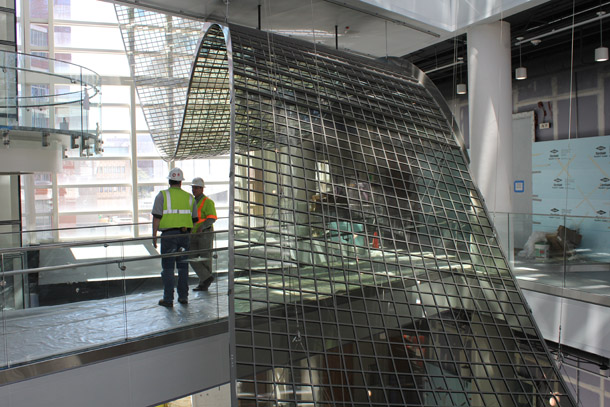 The hours before noon seem to be the best viewing hours for the piece. The atrium is filled with sunlight and the animations are highly legible. There are some beautiful refractive artifacts with the glass. Depending on your viewing angle, you can see all kinds of blues and greens. David Weiner and his team focused their spotlights on the piece, which makes for some excellent shadows.
We're looking forward to seeing all the other exhibits in their completed state. Dave Small and Avi Weinstein from Small Design Firm were down there working on their interactives. And Batwin & Robin was busy putting the finishing touches on the Daily Planet projection and light show.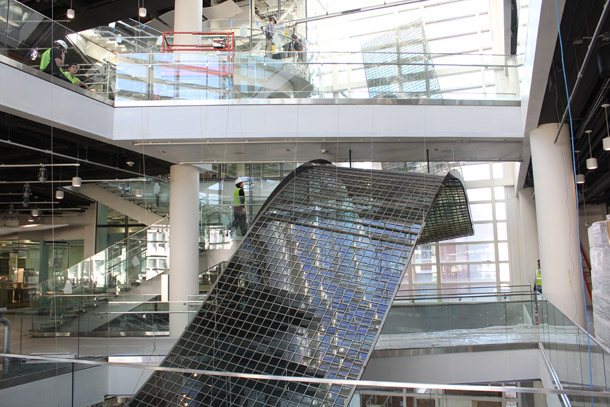 We're headed down for one more trip to complete the animation and sound design. Then the public 24-hour opening on April 20. We'll be shooting some proper footage and making a reel of the piece. I can't wait to see some kids' reactions to this thing.