Welcome to SosoTasty, our new platform that serves up an endless, curated stream of food trends on Twitter. Get the up-to-the-minute dish on what's most delicious in the conversation. Looking for something to satsify your sweet tooth? Curious about the word on wood-fired pit BBQ? Hungry for an exotic pumpkin dish?
The system searches Twitter for uses of words like delicious, tasty, and yummy. It analyzes all of these tweets and identifies emerging trends, by building up a dynamic dictionary of words, phrases, and hashtags. It provides three different views onto the conversation: trends, mentions, and themes. Trends are the words and phrases being used the most at any given moment. Mentions are the people being talked about and retweeted the most. Themes are curated categories that capture conversations around specific topics, using custom language dictionaries we created around each theme.
Twitter can be a vast and wiley universe of content. It can be challenging to track down, analyze, and showcase meaningful stories. We were able to strike a nice balance of narrative and technology with SosoTasty. We have a copy of it hanging in our studio and have been pleasantly surprised by the stories that surface each day. The site automatically scrolls through the content, and makes a great animated poster for your wall.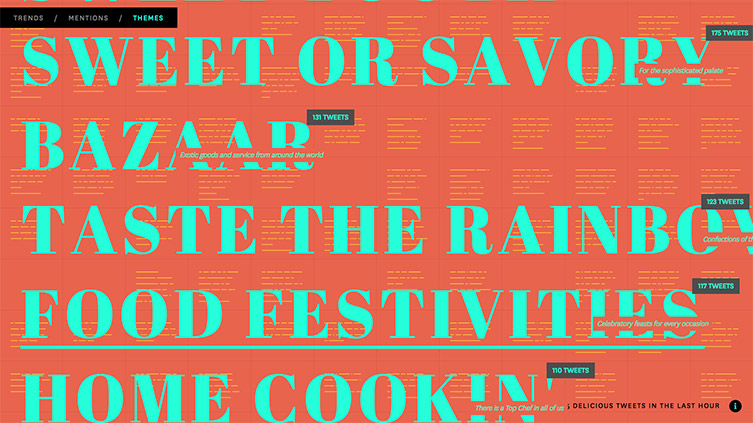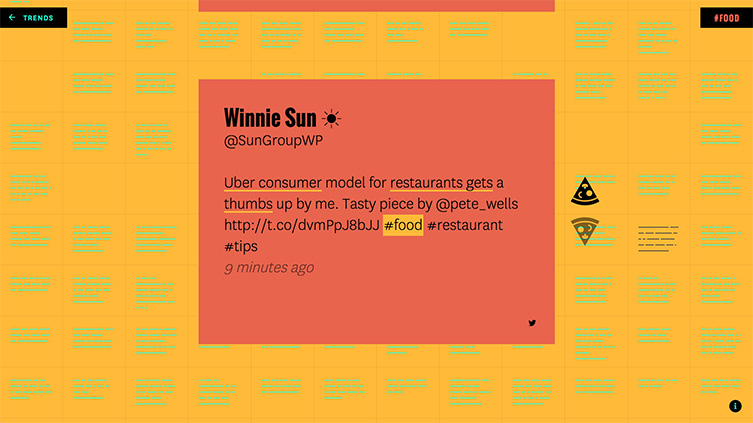 We built SosoTasty using our realtime Twitter analysis and visualization platform. The platform has proved quite versatile. With the right crafting of narrative, and curation of search terms and dictionaries, it can be reused on a wide range of topics and stories. The platform can feed realtime content to websites, data visualizations, media sculptures, and anything else we can imagine. For a recent project, we used it to drive LEDs on the side of a building.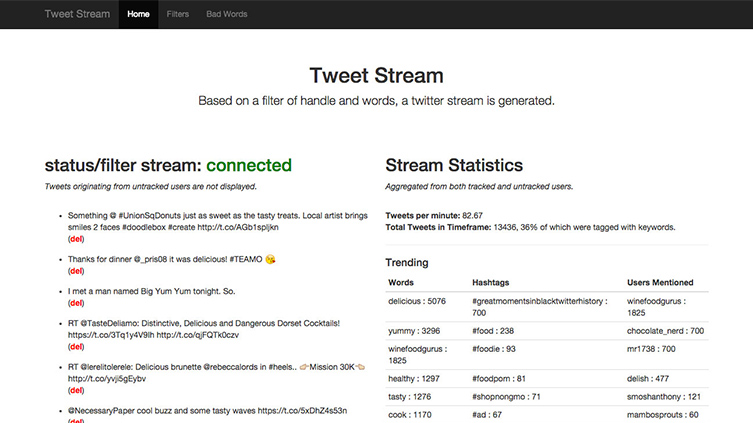 Behind the platform is a configuration panel that allows for customizing the search queries, managing the dictionaries and themes, and filtering out bad language. It also provides realtime stream monitoring and statistics on incoming results. The platform runs on a Node.js server that connects to Twitter, parses and analyzes the incoming tweets, and stores them in a MongoDB database, along with useful data.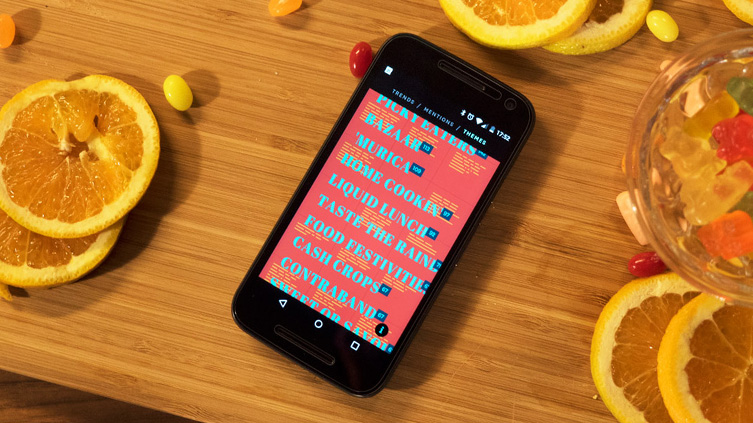 If you find yourself craving the latest and greatest tastes, check out SosoTasty. It's up-to-the-minute delicious.