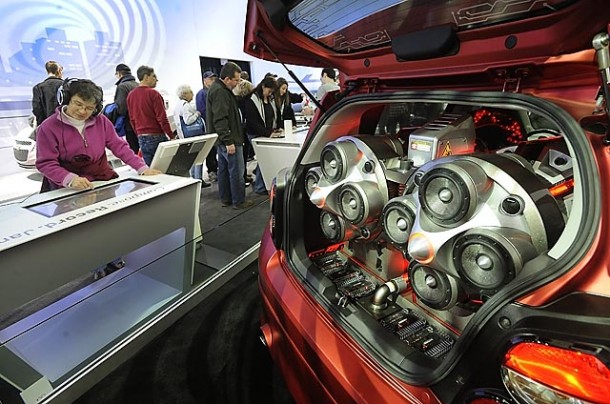 Lauren just got back from the North American International Auto Show, where we installed a booming interactive. Building on past work, we developed a touchscreen sequencer that allowed users to create their own custom beats. These beats were then pumped through a 4000 Watt sound system installed in the back of a pimped-out Chevy Sonic. You could also record your beat to share it with friends or download it as a ringtone.
Jack Morton Worldwide developed the concept and we had a great time working with Dave Lentz, Cooley Ludtke, and Linda Nahas to pull this one off. We also worked closely with 24G, who developed the social sharing screen and Bluewater Technologies, who handled the audio hardware.
The image above is from Daniel Mears of The Detroit News.
More documentation is coming soon, but if you're interested, the following video shows off the audio system in the Chevy Sonic Boom. 4000 Watts of bass-kicking power.